God of War Ragnarök pre-orders have opened ahead of the game's recently confirmed November 9, 2022 release date.
Pre-orders for the PS4 and PS5 game opened on July 15 at 10am local time (10am ET for North America).
Retailer listings for the game have revealed several new features, including the supported graphics modes on PS5.
God of War Ragnarök – 'Father and Son' Cinematic Trailer | PS5 & PS4
"Switch between full 4K resolution at a targeted 30 frames per second, or dynamic resolution upscaled to 4K at a targeted 60fps," reads the product description on retail sites.
"Behold enhanced reflections, lighting and shadows, as well as increased geometric detail and enhanced deformable snow."
God of War Ragnarök at retail
Other PS5 exclusive features include haptic feedback and adaptive trigger functionality, and multidirectional 3D audio.
Sony recently announced four God of War Ragnarök editions, which are detailed in full below.
According to retailer listings, God of War Ragnarök will see players "embark on an epic and heartfelt journey as Kratos and Atreus struggle with holding on and letting go.
"A couple of years have passed since Fimbulwinter began; the cold continues to bite, throughout the realm of Midgard.
"Kratos and Atreus do their best to stay hidden, having tried to undo the approaching end times. Every day they train for the inevitable while seeking any possible means to change the course of fate.
"Atreus seeks to further understand the clues left behind by his mother and piece together his prophesied role in the coming war. Meanwhile, Kratos struggles with his son's desire to uncover more about his identity, knowing it will draw them towards the vengeful Aesir. If that happens, they'll be even closer to repeating the bloody mistakes of the past.
"Together, father and son venture deep into the Nine Realms, while Asgardian forces prepare for war. Along the way, they will explore stunning, mythical landscapes, and face fearsome enemies in the form of Norse gods and monsters.
"As the threat of Ragnarök grows ever closer, Kratos and Atreus find themselves faced with a choice: between their own safety or the safety of the realms."
God of War Ragnarok – Standard Edition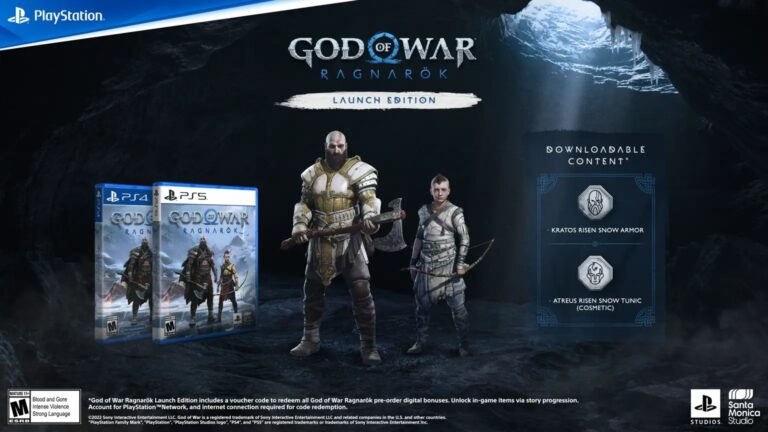 Players who purchase any edition of the game before launch will receive the Kratos Risen Snow Armor and the Atreus Risen Snow Tunic digital bonuses.
Players who purchase the standard edition of God of War Ragnarök for PS4 will be able to upgrade to the PS5 version for $10.
God of War Ragnarok – Digital Deluxe Edition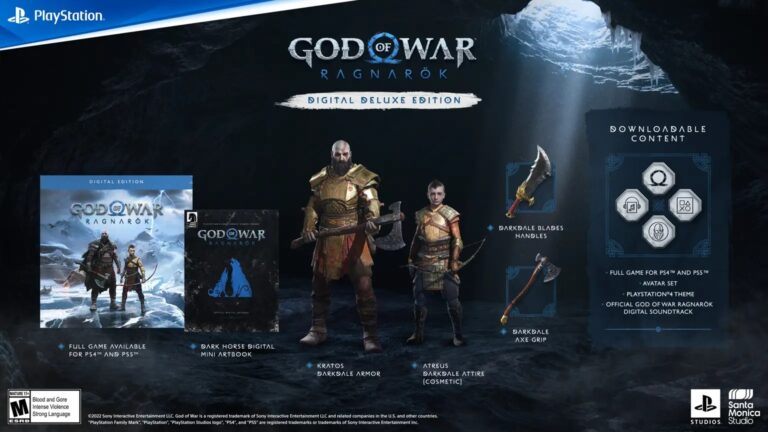 Full God of War Ragnarök game on PlayStation 4 and PlayStation 5 consoles.
Kratos Darkdale Armor
Atreus Darkdale Attire (cosmetic)
Darkdale Blades Handles for the Blades of Chaos
Darkdale Ax Grip for the Leviathan Ax
Official God of War Ragnarok Digital Soundtrack
Dark Horse Digital Mini Artbook
Avatar Set
Playstation 4 Theme
God of War Ragnarok – Collector's Edition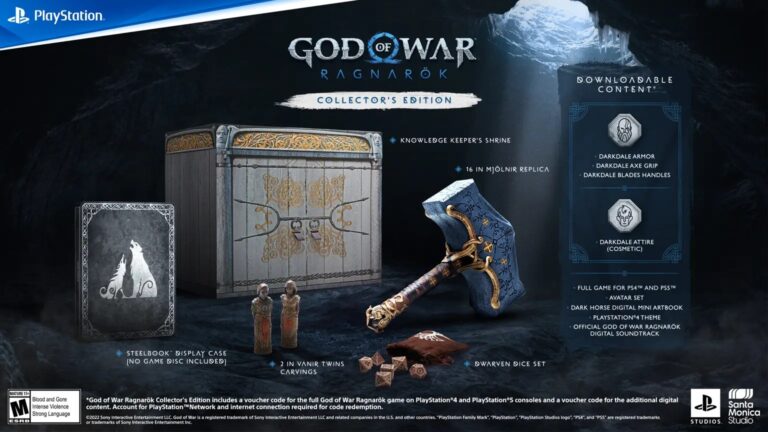 Printed voucher code for the full God of War Ragnarök game on PlayStation 4 and PlayStation 5 consoles.*
A Steelbook Display Case (no game disc included) – The God of War Ragnarök Steelbook Display Case depicts renditions of the Bear and the Wolf.
2" Vanir Twins Carvings – In the same style as Atreus' wooden toy carvings of the Huldra Brothers from the God of War (2018) Collector's Edition, the God of War Ragnarök Collector's Edition completes the set with carvings of the Vanir Twins.
Dwarven Dice Set – This set comes with a set of dice with a quality wood-like finish in a dice bag with a symbol of Yggdrasil on the outside.
16" Mjölnir Replica – A highly detailed replica of Thor's signature weapon from God of War Ragnarök.
Kratos Darkdale Armor
Atreus Darkdale Attire (cosmetic)
Darkdale Blades Handles for the Blades of Chaos
Darkdale Ax Grip for the Leviathan Ax
Official God of War Ragnarok Digital Soundtrack
Dark Horse Digital Mini Artbook
Avatar Set
Playstation 4 Theme
God of War Ragnarök – Jötnar Edition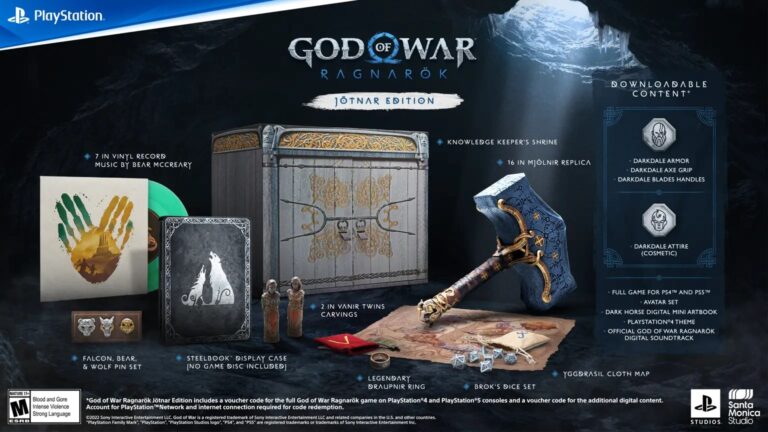 Printed voucher code for the full God of War Ragnarok game on PlayStation 4 and PlayStation 5 consoles.
7-Inch Vinyl Record with music by Bear McCreary – This includes two tracks from composer Bear McCreary.
The Falcon, Bear, and Wolf Pin Set – Representing Faye, Kratos, and Atreus respectively, this pin set symbolizes our heroes' family.
The Legendary Draupnir Ring – A ring from Norse Mythology, the Legendary Draupnir Ring comes in a red cloth bag.
Brok's Dice Set – This dice set comes with a metallic silver finish with blue detailing. The dice bag features the Huldra Brothers' brand.
Yggdrasil Cloth Map – This cloth map shows each of the Nine Realms within the branches and roots of Yggdrasil.
A Steelbook Display Case (no game disc included)
2" Vanir Twins Carvings
16" Mjölnir Replica
Kratos Darkdale Armor
Atreus Darkdale Attire (cosmetic)
Darkdale Blades Handles for the Blades of Chaos
Darkdale Ax Grip for the Leviathan Ax
Official God of War Ragnarok Digital Soundtrack
Dark Horse Digital Mini Artbook
Avatar Set
Playstation 4 Theme