Sony Interactive Entertainment has announced that the God of War Ragnarök release date is November 9, 2022.
It has also released a new CG trailer for the game and a video showing off multiple editions of the PS4 and PS5 title, which are viewable below.
"Join Kratos and Atreus on a mythic journey for answers before the prophesied battle that will end the world," reads the blurb accompanying the new trailer. "All the while, the eyes of Asgard watch their every move."
God of War Ragnarök – 'Father and Son' Cinematic Trailer | PS5 & PS4 Games
God of War Ragnarök was originally scheduled for release in 2021, but last June Santa Monica Studio said it had been delayed 2022 to help the studio deliver "a top-quality game while maintaining the safety and wellbeing" of its team.
Pre-orders for God of War Ragnarok will open on July 15 at 10am local time (10am ET for North America).
Players who purchase any edition of the game before launch will receive the Kratos Risen Snow Armor and the Atreus Risen Snow Tunic digital bonuses.
God of War Ragnarok – Standard Edition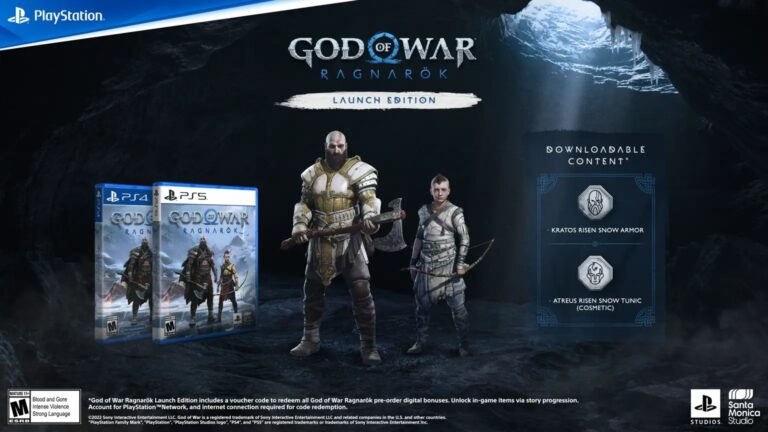 Players who purchase the standard edition of God of War Ragnarök for PS4 will be able to upgrade to the PS5 version for $10.
God of War Ragnarok – Digital Deluxe Edition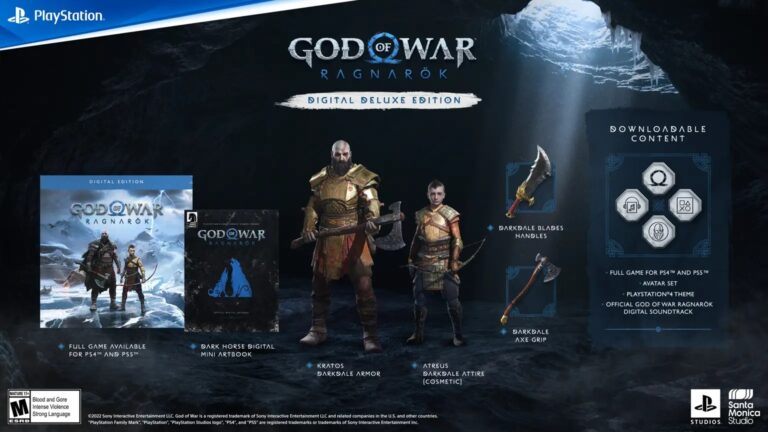 Full God of War Ragnarök game on PlayStation 4 and PlayStation 5 consoles.
Kratos Darkdale Armor
Atreus Darkdale Attire (cosmetic)
Darkdale Blades Handles for the Blades of Chaos
Darkdale Ax Grip for the Leviathan Ax
Official God of War Ragnarok Digital Soundtrack
Dark Horse Digital Mini Artbook
Avatar Set
Playstation 4 Theme
God of War Ragnarok – Collector's Edition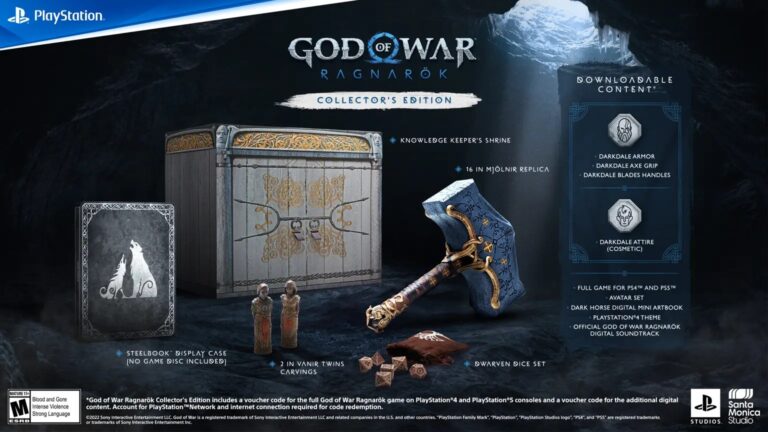 Printed voucher code for the full God of War Ragnarök game on PlayStation 4 and PlayStation 5 consoles.*
A Steelbook Display Case (no game disc included) – The God of War Ragnarök Steelbook Display Case depicts renditions of the Bear and the Wolf.
2" Vanir Twins Carvings – In the same style as Atreus' wooden toy carvings of the Huldra Brothers from the God of War (2018) Collector's Edition, the God of War Ragnarök Collector's Edition completes the set with carvings of the Vanir Twins.
Dwarven Dice Set – This set comes with a set of dice with a quality wood-like finish in a dice bag with a symbol of Yggdrasil on the outside.
16" Mjölnir Replica – A highly detailed replica of Thor's signature weapon from God of War Ragnarök.
Kratos Darkdale Armor
Atreus Darkdale Attire (cosmetic)
Darkdale Blades Handles for the Blades of Chaos
Darkdale Ax Grip for the Leviathan Ax
Official God of War Ragnarok Digital Soundtrack
Dark Horse Digital Mini Artbook
Avatar Set
Playstation 4 Theme
God of War Ragnarök – Jötnar Edition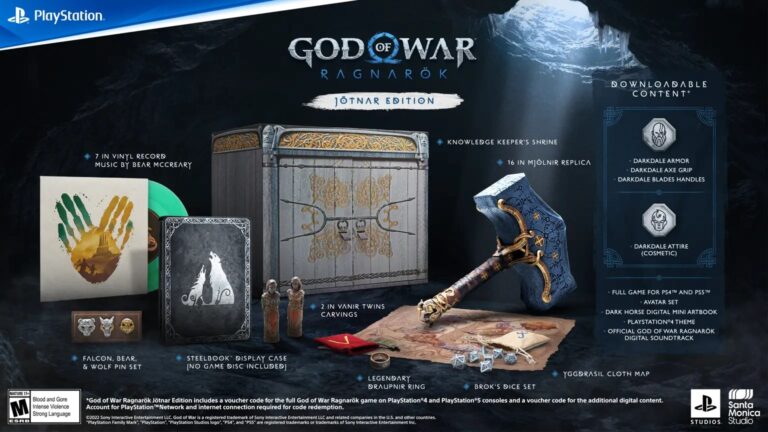 Printed voucher code for the full God of War Ragnarök game on PlayStation 4 and PlayStation 5 consoles.
7-Inch Vinyl Record with music by Bear McCreary – This includes two tracks from composer Bear McCreary.
The Falcon, Bear, and Wolf Pin Set – Representing Faye, Kratos, and Atreus respectively, this pin set symbolizes our heroes' family.
The Legendary Draupnir Ring – A ring from Norse Mythology, the Legendary Draupnir Ring comes in a red cloth bag.
Brok's Dice Set – This dice set comes with a metallic silver finish with blue detailing. The dice bag features the Huldra Brothers' brand.
Yggdrasil Cloth Map – This cloth map shows each of the Nine Realms within the branches and roots of Yggdrasil.
A Steelbook Display Case (no game disc included)
2" Vanir Twins Carvings
16" Mjölnir Replica
Kratos Darkdale Armor
Atreus Darkdale Attire (cosmetic)
Darkdale Blades Handles for the Blades of Chaos
Darkdale Ax Grip for the Leviathan Ax
Official God of War Ragnarok Digital Soundtrack
Dark Horse Digital Mini Artbook
Avatar Set
Playstation 4 Theme