During PAX East 2022, tinyBuild Games revealed that they'll be releasing the upcoming multiplayer title Rawmen this Summer with a new trailer. Created by indie developer ANIMAL under the tinyBuild banner, this is a straight-up food fight as they have put their own twist on the arena shooter with an up to 32-person battle with teams of four fighting over the best and worst dishes you can fling at others. What's more, the team are planning an open beta int he next couple of months before the game is released later this year. Enjoy the announcement trailer below and get a good look at all the food flingin' fun!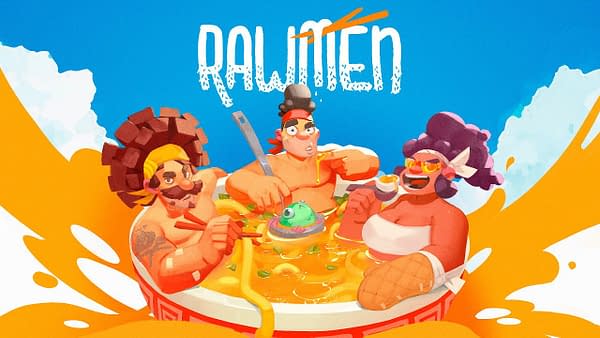 Wield a radical culinary arsenal and taste the savory mayhem. Wack others with mackerel, destroy em' with dumplings, set up a soup spitting goose, or summon a sausage shooting minigun – these are only a few possibilities with Rawmen's various menu of weapons. Order up some fast food in Quickplay or jump into a Rawmen Tournament with a team of four taste buds (or random players) to compete against a mix of others for a Grand Prize. If your team comes out on top you can vote to split the prize equally…or choose to turn friends into foes in a final Sudden Death round that decides who gets the whole hog.

Choose your fixings with a wide variety of lookin' balls, tattoos, ladles, oven mitts and more. Rawmen's expanding cosmetics collection means an almost incalculable combo of character looks and boundless opportunities to express yourself. Be glam, be goth, wear rainbows, wear (almost) nothing, carry the basics or carry ferrets…but whatever's your favorite flavor, we have something that'll let you serve looks. The game adds a chaotic splash of secret sauce to familiar game modes.

Brother Battle: Food fight to the death.
meat ball: Become one with the very juicy important meatball and steer it to the goal. Get that meat juice while fending off others.
Claim Chowder: Snag the soup by getting in the zone and defending the coveted chowder pot.
top Rawmen: Use donut bombs and flatulence to collect Bouillon cubes in this king of the hill mode.