New-gen console versions of Cyberpunk 2077 could be set for a surprise release.
Ahead of an upcoming live stream on Tuesday during which CD Project is expected to finally detail the PlayStation 5 and Xbox Series versions, Cyberpunk 2077 has seemingly been updated on Xbox to add it to the list of games 'Optimized for Xbox Series X/S' .
As first spotted by members of the r/cyberpunkgame subreddit, the game now features the "X/S" tag when viewed on an Xbox console. This is not currently reflected when accessing the game from the Xbox store.
---
UPDATE: A Tweet claimed to have been made – and later deleted – by the official Dutch account for Xbox has reportedly suggested that a free trial for Cyberpunk 2077 will launch today.
The tweet also appears to confirm that the new-gen versions of Cyberpunk will launch following the live stream.
---
ORIGINAL STORY CONTINUES:
On PlayStation platforms, the game is still currently only downloadable as a PlayStation 4 title.
On Monday. the official cyberpunk twitter account acknowledged the Xbox Series X/S listing. In response to journalist Tom Warren, the account posted a GIF recognizing that the listing appeared to have gone live early.
Players have also noticed that the Steam version of the game has received a recent update, which many are speculating could lead to a surprise launch for all platforms following the live stream.
According to SteamDB, both the CDPR internal QA branch used for testing and the public Geforce Now builds of the game received major updates on February 14.
Finally, there's evidence that CD Projekt Red could also be planning to release a free demo version of Cyberpunk 2077, to coincide with the long-awaited new-gen console update.
An advertisement for what appears to be a free trial for the game briefly appeared on a Spanish games site on Monday.
"Free trial version of Prueba en" translates to "Free trial version". The ad listed both the Xbox Series and PS5 version of the game, implying a demo may be coming soon.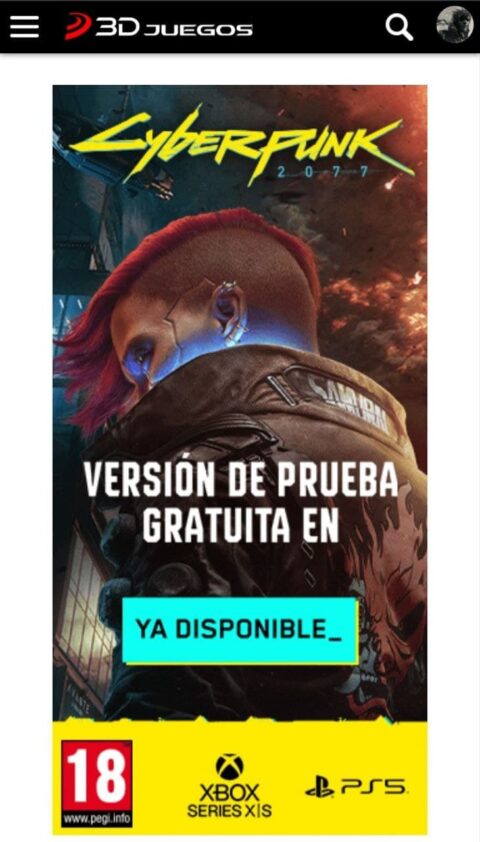 CD Project's presentation will begin at 7am PT / 10am ET / 3pm GMT / 4pm CET on February 15.
"So, choom, how 'bout a date? We'll talk things, y'know," CD Projekt teased on Monday.
Last month, the PS5 version of Cyberpunk 2077 was seemingly spotted in the PlayStation Network backend, suggesting that the long-awaited new-gen release could be coming soon.
Last November, CD Projekt said the new-gen versions of Cyberpunk 2077 and The Witcher 3: Wild Hunt were "on track" to meet their then-recently delayed launch windows.
The new-gen editions of the games were originally scheduled to release last year, but in October the PS5 and Xbox Series X/S versions of both Cyberpunk 2077 and The Witcher 3 were delayed to 2022, with the former due in the first quarter of the year and the latter in the second quarter.